Carefree Golf Photography Photocaddie
Let us document your golf adventures, experiences and friendships through professional photography.
Carefree Golf Photography is passionate about capturing the essence of golf
Founded in 2020, Carefree Golf Photography is already established as a leading provider of golf photography in the UK and Ireland.
We are excited to have launched our Photocaddie service, offering intimate on-course photography around courses such as:
- Royal County Down
- Royal Portrush
- Portstewart
- Portmarnock
- K Club
- Adare Manor

Above all else, we pride ourselves on creating outstanding imagery, and being dependable and enjoyable to work with. We aim to offer excellent value, whilst also developing long term relationships.
We will capture not only the action, but the spirit of your round, through candid, unobtrusive photography, giving you a lifetime of memories.
We also aim to make you as comfortable as we can before and during your round - we're there to add to your day, not distract you!
Why Carefree Golf Photography?
Our approach to golf photography is simple, and led by our core values:
- Creating outstanding imagery
- Being dependable & enjoyable to work with - Building long term relationships
- Delivering value
- Developing our craft
A key benefit of working with us, is a dedicated point of contact in Mike Hyde, who will also deliver the majority of the photography.
As a small, but ambitious, photography agency, we also offer flexibility and a willingness to work closely with you, meaning you receive a personal service throughout.
Dynamic, evocative photography for golfers who want to remember their rounds with a portfolio of high-quality imagery.

We'll include the best moments of your day, captured in high resolution and professionally edited photos. We'll capture the action up close - without getting in the way - as well as panoramic shots to showcase your surroundings.
We are based in County Down, Northern Ireland, and we offer Photocaddie services worldwide.

Price per round:

• 1-8 golfers – £399
• 9-16 golfers – £449
Price per additional round:

• 1-8 golfers – £299
• 9-16 golfers – £349
For groups over 16, please get in touch, as an additional photographer may be required.

If you are planning a multi-course trip across several days, please get in touch as we will do our best to build discounted, bespoke multi-day packages.
Travel expenses within NI and the Dublin area is included in the cost - bookings further afield may be subject to additional costs, although we will do our best to keep these to a minimum.
You'll receive:

• 100 or more edited photographs
• Dedicated website login and cloud storage for one year
• Discounted Carefree Golf Photography course prints
HOW TO BOOK
To book your Carefree Golf Photography Photocaddie package, simply complete the form below, or call +44 7793 027885.
We accept bookings up to the day before your trip, but only if we're available, so please book as early as possible to guarantee your shoot, and to allow us time to chat and get to you know you in advance.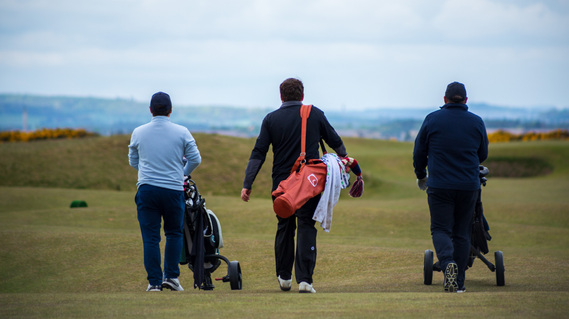 BOOK NOW
Once you complete the form below, we will be in touch to confirm our availability within 24 hours.
We require a deposit at the time of booking to guarantee your booking, which is fully refundable if you cancel your package no later than 7 days before your tee time.